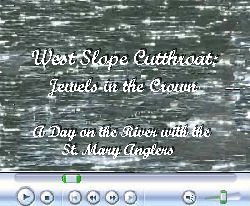 St. Mary Angler promotional video
(View on their web site at 320x240, 256Kbps)
In today's market place, web advertising and in-store video display has become a "must have" feature for successful businesses.
Nothing illustrates the capabilities of a company more forcefully than video on the web site and kiosk promotional materials. Bellevue's VideOccasions produces video for business clients cost effectively and in a timely manner.

During the summer of 2007, for example, International award-winning VideOccasions went on location in British Columbia to produce a promotional piece for Kelly and Karen Laatsch at the St. Mary Angler Fly Shop.
This project, which required two days of shooting on B.C. rivers and several days of editing, is being distributed on DVD to perspective clients at trade shows and appears on the shop's video screens and on the St. Mary Angler Fly Shop web site.

In May 2008 West Slope Cutthroat: Jewels in the Crown was awarded two Bronze Tellys, for In-store promotional media and for audio production. With more than 14,000 entries in the Tellys this year, we and our
clients think that's something to be proud of. But more importantly, thousands of potential St. Mary Angler Fly Shop customers have viewed this video at sports shows in Washington, Oregon and California; many have booked trips with the guide service.