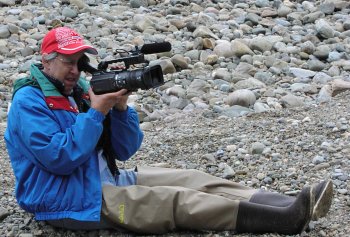 2007 shoot for St. Mary Angler Fly Shop
on the St. Mary River, B.C.
For the next six years she worked as an editor and technician at the now-defunct Video Workshop in Kirkland, where she video-taped weddings, special events and training sessions, and helped countless people edit their home videos and create video albums and family histories.

While working at Video Workshop, Judy was also employed as a videographer by Seattle's ProVideo Productions, where she specialized in recording legal depositions.

The day after Video Workshop closed its doors in 1998, Judy opened her's at VideOccasions™, recognizing the need for a consumer and small business oriented company on the East Side that specializes in providing editing facilities, in video production of events, seminars and business activities; and in tape duplication, film-to-video conversion and foreign-to US format conversion, the creation of CDs and DVDs and the countless other activities associated with the video industry.