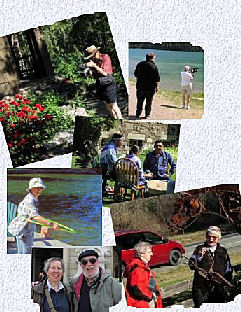 A photo montage is a collection of photographs arranged to tell some aspect of a life story. The photo montage is a celebration of life, whether it celebrates a birthday or anniversary, relives a family vacation, or evokes memories of a loved one gone. Photographs that have languished for years in old scrapbooks and albums can be shared with family members far and near when placed onto a DVD.

Although often consisting entirely of still pictures, there are no rules regarding what a photo montage should be, and many we have helped create at VideOccasions have contained a mixture of still photos, slides and video material. Photo montages are usually accompanied by music, and may have narration added too.


For more detailed information please read below.
There's a lot to read here, but it will save you time, money and aggravation if you read it all.
THE COST
The cost of a photo montage is based on the amount of time it takes us to create it with you, billed at $75 per hour.
Depending on its length the cost of a photo montage can vary a great deal. As an example, a ten minute DVD montage, with about 120 photos, a title, captions and music, might start as low as $300.00
A recent photo montage 45 minutes in length, with more than 400 photographs, several minutes of video, extensive voice over and graphics cost more than $1700.